Duminda Basnayake1 , Abdul Wazil2 , Nishantha Nanayakkara3 , Buddhisha Mahanama4 , Neelakanthi Ratnatunga2 , Kushangi Dissanayake5 , Pradeep Priyadarshana5
1 No 315, Williumgopallawa Road, Suduhumpola, Kandy, Sri Lanka, Sri Lanka, 2 Aniwattha, Kandy, Sri Lanka, 3 Heerassagala, Kandy, Sri Lanka, Sri Lanka, 4 Hanthana, Kandy, Sri Lanka and 5 Kandy, Kandy, Sri Lanka
INTRODUCTION: Lupus nephritis (LN) is a critical complication of systemic lupus erythematosus (SLE) that affects 40 to 60% of patients and signifies poor prognosis. LN has a wide variety of clinical and histological presentations that guide the appropriate management and determine the morbidity and mortality. The main aim of this study is to identify the clinical and histopathological pattern of LN at presentation in a tertiary care center in Sri Lanka.
METHODS: In a retrospective descriptive study model 351 patients attending our nephrology unit from January 2010 to November 2018 were analyzed with regard to clinical and histological patterns of LN. Light microscopy and immunofluorescence studies were utilized to examine the renal biopsies and classified according to the International Society of Nephrology classification of LN.
RESULTS: A total of 351 patients with biopsy proven LN were included in the study. There were 309 (88.03%) females and 42 (11.96%) males with a female: male ratio of 7.3: 1. Mean age at initial presentation was 29.73 (age range 11 – 70 years). Common clinical presentations were body swelling/edema (78.9%) and frothy urine (77.2%), followed by hematuria (19%), joint pain/myalgia (17.9%), body rash (15.3%), alopecia (15%), fever (13.6%), exertional dyspnea (13.1%) and oral ulcer (9.4%). 10.8% of patients were hypertensive (>140/90mmHg) at presentation.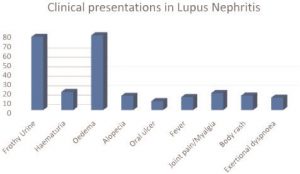 Proteinuria was evident in almost all patients (96.3%) with per day proteinuria of 500mg (0.28%), 0.5-2g (7.4%), 2-3g (28.2%) and >3g (60.39%). Anemia (hemoglobin <12g/dl) was a noteworthy finding in 82.05% of LN patients. Thrombocytopenia (<150 109/ L) was seen among 10.8% of patients. 19.37% of patients had high serum creatinine (>130umol/L). ANA reports were available in 209 patients and was positive in 190 (90.9%) and negative in 19 (9.09%) patients. Of 53 patients with Ds DNA tested, 43 (81.13%) patients were test positive and 10 (18.86%) patients were test negative. Both ANA and Ds DNA negativity was noted only in 3 patients.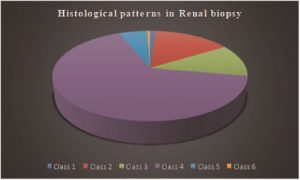 Diffuse LN (Class IV) was the commonest histological pattern accounting to 231 (65.8%) cases. This was followed by Mesangial proliferative LN (Class II) which occurred in 53 (15%) patients. Focal LN (Class III) was present in 41 (11.6%), membranous LN (Class V) in 20 (5.6%), minimal mesangial LN (Class I) in 4 (1.13%), and advanced sclerosing LN (Class VI) in 2 (0.5%) patients.
CONCLUSIONS: In our study population, rate of LN in males was higher compared to the world population. Proteinuria was the commonest renal manifestation. Anemia was a prevalent finding. Class IV LN affected most patients followed by Class II LN in our population. ANA and anti-dsDNA positivity was evident in a relatively higher proportion of patients.
Downloaded from https://academic.oup.com/ndt/article-abstract/34/Supplement_1/gfz103.SP166/5515861