RajithaAbeysekara1, Abdul Wazil1 , Lishanthe Gunarathne2 , Sewmini Dickowita1 , Charaka Rathnayake1 , Nishamani Karunasena1 , Maithri Fernando1 ,Nishantha Nanayakkara1
1Teaching Hospital, Kandy , 2Renal Clinic Girandurukotte , Sri Lanka
Abstract : Used effluent dialysate bags are thrown away which adds burden to the environment. Here CAPD patient from Srilanka describes the use of used dialysate bag for growing vegetables and flower. There by earning him part of his livelihood.
Keywords : CAPD patients, Use of PD bags, House gardening, vegetables farming
Introduction : Peritoneal dialysis ( PD ) isincreasingly used as a renal replacement therapy modality in the developing countries. It offers many benefits such as home based therapy, low cost, less requirement for highly trained personnel with more freedom for day to day activities. In agricultural communities the risk of infection has been a concern. However with good patient selection this treatment modality has proved to be successful. We present a novel use of PD fluid bags by a patient in an agricultural area in Sri Lanka.
Case report : A 37 year old, male from a Chronic Kidney Disease of uncertain aetiology ( CKDu) endemic area, Ginnoruwa, was diagnosed as having CKDu in 2004. He defaulted treatment and presented in March 2016 in stage V chronic kidney disease ( CKD ) with fluid overload and uremic symptoms with a creatinine of 19mg/dL and eGFR 3ml/min/1.73m2. Haemodialysis was immediately initiated and one month later he was transferred to chronic ambulatory peritoneal dialysis (CAPD ).To date he has had no complications related to CAPD.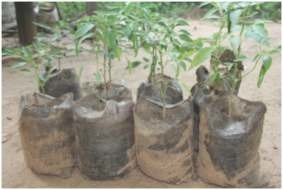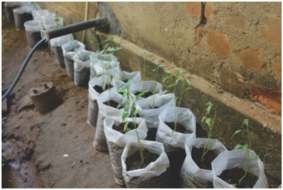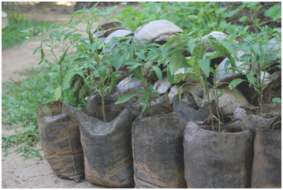 The patientis a three wheeler mechanic by profession. Following his worsening CKD, he gave up working. Once he was fully established on CAPD, he resumed workingand has been successfully occupied for the last 6 months. Apart from this he is also involved in poultry farming and home vegetable gardening. The home gardening consists ofchilies, tomatoes, beans, manioc and cucumber which is used for home consumption as well as selling.
This patient had a novel idea of making maximum use of his CAPD bags by using themfor his home plantation. Currently in Sri Lanka, the CAPD solution bags are provided to the hospital by the company and the patients come to hospital to acquire them. Once used, our patientused the empty CAPD bags to plant the vegetables ( fig. 1-3) and has managed to completely fulfill his requirement of bags using these. He has reduced his cultivation expenditure by 25% since switching to CAPD bag use.
Conclusion : This is a novel idea for the use of used CAPD bags. In developing agricultural based areas where initiation and maintaining patients on PD is challenging, this would prove to be a promising way for patients to economically benefit in their home environment.
Address for Correspondence
Nishamani Karunasena
Teaching Hospital,
Kandy, Srilanka.
Email ID: [email protected]