Silva, T1 , Anand, S2 , Penny, V3 , Schensul, S4 , HEWAVITHARANE, P*5 , Nanayakkara, N6 , Haider, L7 , Schensul, J7 , Chandrajith, R8 , Narayana, I9 , hapuarachchi, C9
1 Department of Sociology- Faculty of Arts- University of Peradeniya- Sri Lanka Department of Sociology Kandy Sri Lanka, 2 Medical Centre- Stanford University- USA Medical Centre california USA, 3 Department of Marine Sciences- University of Connecticut- USA Department of Marine SciencesConnecticut USA, 4 Medical Centre- Stanford University- USA Medical Centre connecticut USA, 5 Nephrology and Kidney Transplant Unit- Teaching hospital Sri Lanka Nephrology and Kidney Transplant Unit Kandy Sri Lanka, 6 Nephrology and Kidney Transplant Unit- Teaching hospital Sri Lanka 1Nephrology and Kidney Transplant Unit Kandy Sri Lanka, 7 Health Centre University of Connecticut- USA Health Centre connecticut USA, 8 Department of geology- faculty of science- University of Peradeniya Department of Geology Kandy Sri Lanka, 9 Divisional Hospital- WilgamuwaMathale Divisional Hospital Mathale Sri Lanka
Introduction: Chronic kidney disease of unknown aetiology (CKDu) affects up to 20% of farmers living in dry regions of Sri Lanka. One of its hypothesized causes is heat stress during strenuous work.
Methods: We recruited 293 persons with CKDu from an endemic region in Sri Lanka, with the clinical criteria: CKD-EPI eGFR < 60 ml/min/ 1.73m2 on two tests at least 3 months apart, none to trace proteinuria on urine dipstick, and no self-reported diagnosis of diabetes. In addition to extensive baseline 230-item questionnaire and groundwater sampling, we undertook quarterly IDMS-calibrated serum creatinine testing. We tested whether hours working during the two peak farming seasons and symptoms of heat stress were correlated with rapid kidney function.
Results: Over 1.5 years of follow up, a subset of patients (n¼46,16%) experienced rapid kidney function decline (i.e., eGFR decline >5ml/min/ 1.73m2 /year) (Figure). Participants reported spending more than 30 days working during the two harvest seasons (N¼134, 46%) were not more likely to experience a rapid decline (OR 0.90, 95% CI 0.48-1.69). 102 (35%) of participants reported a single symptom of dehydration—severe thirst, severe exhaustion, dysuria or dark urine during the workday—but were not definitively more likely to experience a rapid decline (OR 1.55 (0.82-2.94))
Red: rapid kidney function decline (16%, mean eGFR decline -9.40 ml/min/1.73m2 /year)
Black: slow or no kidney function decline (mean eGFR decline 0.12 ml/min/1.73m2 /year)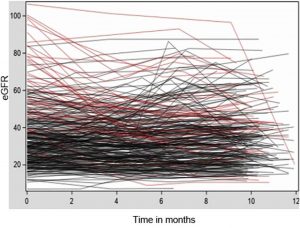 Conclusions: A subset of patients with CKDu in Sri Lanka are experiencing a rapid decline, but a majority are experiencing a slow decline. A number of days of work during harvest season was not correlated with kidney function decline, in line with the highly mechanized agriculture work taking place in Sri Lanka in contrast to intensive manual labour by sugarcane workers in Central America.